Water Level Indicators
Givens International is an authorized distributor of Roctest water level indicators. Contact us today for any length you need, with either imperial or metric graduations.
CPR Water Level Indicator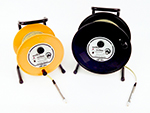 The CPR is a water level indicator used to measure the depth of water in boreholes, standpipes and wells. Light and compact, it offers an accurate and quick readout of water depth. The CPR is available in a large variety of lengths suitable for all needs. It offers an adjustable sensitivity control with an audible and visual sign.
Product Name
CPR Water Level Indicator

| | | | | | | |
| --- | --- | --- | --- | --- | --- | --- |
| Model No. | CPR6-30PM | CPR6-100PM | CPR6-150PM | CPR6-100PF | CPR6-300PF | CPR6-500PF |
| Tape Length | 30 m | 100 m | 150 m | 100 ft | 300 ft | 500 ft |
| Graduation | Every mm | Every mm | Every mm | Every 0.01 ft | Every 0.01 ft | Every 0.01 ft |

Data Sheet
Download
Instruction Manual
Download