Bulroc Shock Absorbers
Bulroc shock absorbers can be used as a connector between the rotary top drive and drill string, but are more commonly used in DTH applications as a connector between the drill string and hammer. They serve the purpose of reducing shock and vibrations that cause wear on top drive, hammer, and drill string threads.
Givens International Drilling Supplies offers a complete range of Bulroc shock absorbers. Contact us today for more information!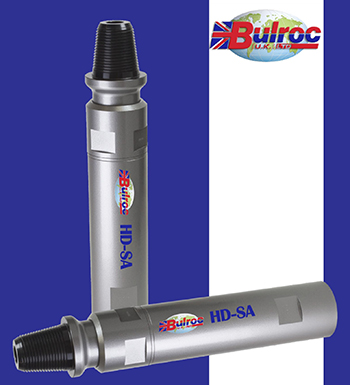 View Specs
Bulroc 2" -6" Heavy Duty Shock Absorbers
| Model | HDSA2 | HDSA3 | HDSA4 | HDSA5 |
| --- | --- | --- | --- | --- |
| Effective Length (inches) | 13.6 | 18.0 | 19.0 | 20.2 |
| Outside Diameter (inches) | 2.4 | 3.1 | 3.8 | 4.5 |
| Weight (pounds) | 16.5 | 31.5 | 48.7 | 73.2 |
| Top Connection | | 2 3⁄8 API REG PIN | 2 3⁄8 API REG PIN | 3 1⁄2 API REG PIN |
| Bottom Connection | | 2 3⁄8 API REG BOX | 2 3⁄8 API REG BOX | 3 1⁄2 API REG BOX |
| Spec Sheet | Download | Download | Download | Download |
| Model | HDSA6 |
| --- | --- |
| Effective Length (inches) | 22.8 |
| Outside Diameter (inches) | 5.5 |
| Weight (pounds) | 116.8 |
| Top Connection | 3 1⁄2 API REG PIN |
| Bottom Connection | 3 1⁄2 API REG BOX |
| Spec Sheet | Download |
Bulroc 8" - 10" Heavy Duty Shock Absorbers
| Model | HDSA8 | HDSA10 |
| --- | --- | --- |
| Effective Length (inches) | 23.3 | 25.0 |
| Outside Diameter (inches) | 7.0 | 8.5 |
| Weight (pounds) | 184.8 | 215.6 |
| Top Connection | 4 1⁄2 API REG PIN | 6 5⁄8 API REG PIN |
| Bottom Connection | 4 1⁄2 API REG BOX | 6 5⁄8 API REG BOX |
| Spec Sheet | Download | Download |
Bulroc 12" - 14" Heavy Duty Shock Absorbers
| Model | HDSA12 | HDSA14 |
| --- | --- | --- |
| Effective Length (inches) | 28.5 | 28.6 |
| Outside Diameter (inches) | 10.0 | 12.2 |
| Weight (pounds) | 504.0 | 506.0 |
| Top Connection | 6 5⁄8 API REG PIN | 6 5⁄8 API REG PIN |
| Bottom Connection | 6 5⁄8 API REG BOX | 6 5⁄8 API REG BOX |
| Spec Sheet | Download | Download |
Bulroc 18" - 24" Heavy Duty In the Hole Shock Absorber
| Model | HDSA18-24 |
| --- | --- |
| Effective Length (inches) | 28.0 |
| Outside Diameter (inches) | 16.0 |
| Weight (pounds) | 1316.0 |
| Top Connection | 8 5⁄8 API REG PIN |
| Bottom Connection | 8 5⁄8 API REG BOX |
| Spec Sheet | Download |
Bulroc 18" - 24" Heavy Duty Out of the Hole Shock Absorber
| Model | OTHSA18-24 |
| --- | --- |
| Effective Length (inches) | 22.1 |
| Outside Diameter (inches) | 19.5 |
| Weight (pounds) | 990.0 |
| Top Connection | 8 5⁄8 API REG PIN |
| Bottom Connection | 8 5⁄8 API REG BOX |
| Spec Sheet | Download |