Grinding Equipment
Givens International Drilling Supplies offers hand-held grinders, grinding cups, grinding wheels, grinding pins, and other accessories. We offer the popular Secoroc Grind Matic HG as well as some generic grinders. Contact us with your specific grinding needs for more information.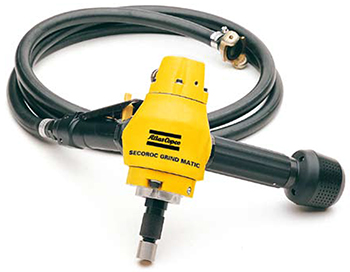 Secoroc Grind Matic HG
Grind Matic HG is a complete manual grinding system comprising a grinding machine, grinding cup and a specially designed chuck. The grinding cups are equipped with a rubber bushing, preventing the transmission of vibrations to the machine. The cups can be cooled with either air or water. The QuickSnap chuck allows you to change grinding cups quickly and easily.
| Product Name | Grind Matic HG |
| --- | --- |
| Button Size | 9⁄32 - 25⁄32" |
| Air pressure, max. | 101.5 psi |
| Air consumption, unloaded | 50 l/s |
| Air consumption, loaded (86 psi) | 42 l/s |
| Hose dimension, air | 1⁄2" |
| Hose dimension, water | 1⁄4" |
| Idling speed | 17000 r/min |
| Water flushing pressure, max. | 65.3 psi |
| Weight, excluding hoses | 6.2 lb |
| Spec Sheet | Download |
Diamond Grinding cups for button bits, COPROD and down-the-hole bits
Grinding cups are used, for smaller grinding volumes, to grind both button and down-the-hole bits in air powered hand-held grinding machines. Featuring a special mixture of abrasive, Secoroc grinding cups are able to grind cemented carbide and steel in a single operation. You can use either air or water as a coolant.