Other Jet-Lube Products
With an in-house laboratory, Jet-Lube is constantly working to research and develop new products and improve the quality and performance of their existing line. Coupled with the shared information and expertise from their worldwide locations in the U.S., Canada and the U.K., Jet-Lube takes great pride in being able to provide distributors and end-users with the very best in lubrication technology.
Givens International is an authorized distributor of Jet-Lube products. Contact us today for all your anti-seizing, sealing, and lubricant needs.
View Specs
Alco-EP-73 Plus
Product Name
Alco-EP-73 Plus
Product Type
Extreme Service Multi-Purpose Grease
Designed For
Subsea or other conditions where extreme water resistance is necessary

| | | | | | | |
| --- | --- | --- | --- | --- | --- | --- |
| Part Number | 37750 | 37705 | 37706 | 37716 | 37724 | 37729 |
| Size | 14 oz. Cartridge | 1 lb. Can | 5 lb. Can | 35 lb. Pail | 120 lb. Drum | 400 lb. Drum |

Technical Data Sheet
Download
Material Safety Data Sheet
Download
Enviro-Guard
Product Name
Enviro-Guard
Product Type
Drop Pipe Lubricant and Sealant
Designed For
Assembly/disassembly of downhole casing for water wells

| | | | |
| --- | --- | --- | --- |
| Part Number | 18423 | 18412 | 18415 |
| Size | 1 gal. Pail | 2 gal. Pail | 5 gal. Pail |

Technical Data Sheet
Download
Material Safety Data Sheet
Download
J-89
Product Name
J-89
Product Type
Lead Free Drill Steel Lubricant
Designed For
Percussion drilling

| | | | |
| --- | --- | --- | --- |
| Part Number | 24423 | 24412 | 24415 |
| Size | 1 gal. Pail | 2 gal. Pail | 5 gal. Pail |

Technical Data Sheet
Download
Material Safety Data Sheet
Download
J-89 Arctic
Product Name
J-89 Arctic
Product Type
Lead Free Drill Steel Lubricant
Designed For
Percussion drilling in low temperature applications

| | | |
| --- | --- | --- |
| Part Number | 24323 | 24315 |
| Size | 1 gal. Pail | 5 gal. Pail |

Technical Data Sheet
Download
Material Safety Data Sheet
Download
Jet-Lube Extreme
Product Name
Jet-Lube Extreme
Product Type
Tool Joint and Drill Collar Compound
Designed For
High angle or horizontal directional drill applications where excessive shoulder torque is needed to create a seal

| | | | | | |
| --- | --- | --- | --- | --- | --- |
| Part Number | 11423 | 11413 | 11415 | 11424 | 11429 |
| Size | 1 gal. Pail | 2.5 gal Pail | 5 gal. Pail | 15 gal. Drum | 50 gal. Drum |

Technical Data Sheet
Download
Material Safety Data Sheet
Download
Pitless Adapter Lube
Product Name
Pitless Adapter Lube
Product Type
Premium Assembly Lubricant/Preservative
Designed For
Assembly and preservation of pitless adapters in waterwell casing applications

| | |
| --- | --- |
| Part Number | 71741 |
| Size | 12 oz. Aerosol |

Technical Data Sheet
Download
Material Safety Data Sheet
Download
TF-15
Product Name
TF-15
Product Type
Metal-Free Thread Sealing Compound
Designed For
Extreme high temperature applications above the traditional temperature of 450°F

| | | | | | |
| --- | --- | --- | --- | --- | --- |
| Part Number | 23023 | 23012 | 23015 | 23024 | 23029 |
| Size | 1 gal. Pail | 2 gal. Pail | 5 gal. Pail | 15 gal. Drum | 50 gal. Drum |

Technical Data Sheet
Download
Material Safety Data Sheet
Download
Well-Guard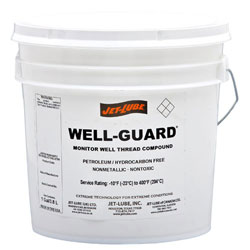 Product Name
Well-Guard
Product Type
Monitor Well Drilling Thread Compound
Designed For
Critical monitor well and other environmentally sensitive drilling applications requiring the use of a petroleum hydrocarbon-free product

| | | |
| --- | --- | --- |
| Part Number | 18572 | 18523 |
| Size | 1 pt. Plastic Jar | 1 gal. Pail |

Technical Data Sheet
Download
Material Safety Data Sheet
Download
White Lithium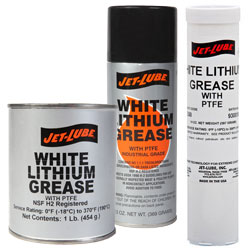 Product Name
White Lithium
Product Type
Premium All-Purpose Grease with PTFE
Designed For
Automotive applications and heavy industrial applications where the PTFE additive acts as an additional lubrication barrier against metal-to-metal contact

| | | | | | | | |
| --- | --- | --- | --- | --- | --- | --- | --- |
| Part Number | 50350 | 50305 | 50306 | 50341 | 50316 | 50324 | 50329 |
| Size | 14 oz. Cartridge | 1 lb. Can | 5 lb. Can | 13 oz. Aerosol | 5 gal. Pail | 15 gal. Drum | 50 gal. Drum |

Technical Data Sheet
Download
Material Safety Data Sheet
Download